Timmins native resumes hockey career in Sweden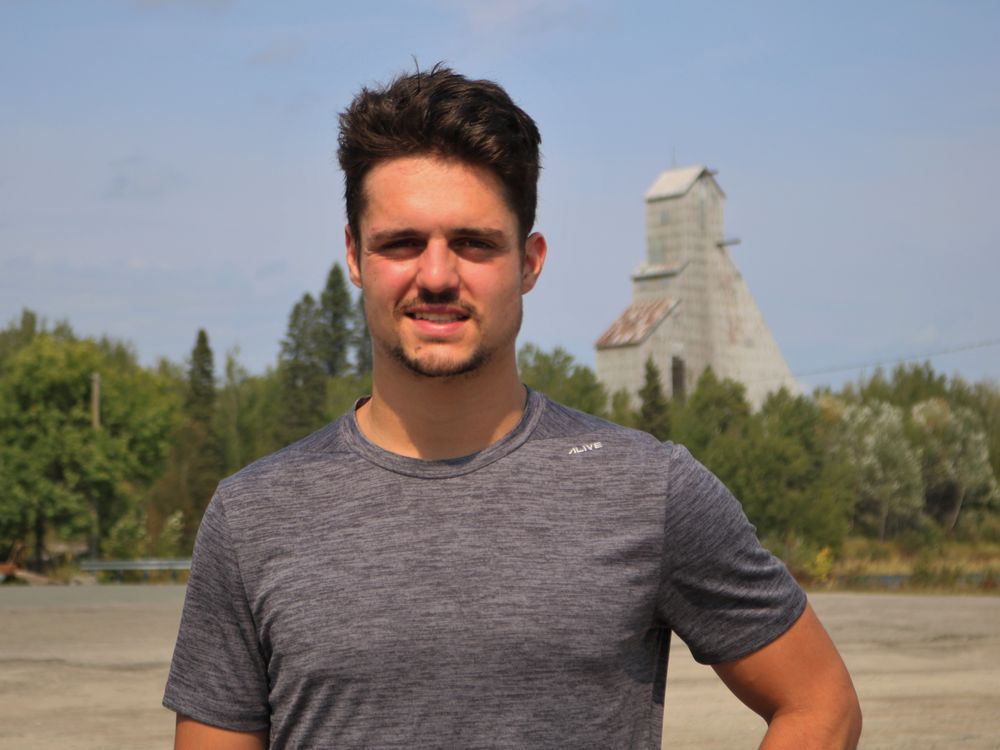 Caron played for Timmins Rock, Sudbury Wolves and Soo Greyhounds before heading to Europe
Content of the article
Phil Caron is now entering his second year of professional hockey abroad and he quickly falls in love with all things Sweden.
Content of the article
The 22-year-old Timmins native, who has played junior hockey with several teams including the Sudbury Wolves and Soo Greyhounds of the OHL, and his hometown Timmins Rock of the NOJHL, will play with IFK Arboga this season.
"I'm very excited and very happy with what they had to offer me," he told the Daily Press.
Arboga is a town of about 11,000 inhabitants, located 150 kilometers west of the capital Stockholm.
"After last season they contacted me and I directed them to my agent to negotiate."
Caron spent last season with two other Swedish clubs – the first being Hallefors and then moved up a division with Lindloven IF where he actually played against IFK Arboga.
The Swedish professional hockey system operates under a promotion and relegation format. Clubs can be moved up or down in Competitive Tiers based on performance in the previous season. This is very similar to the number of European football leagues that operate and the way most international hockey tournaments are organised.
Content of the article
Essentially, if a club finishes dead last, they will go down a tier, while a club that has won their tier will move up a tier.
Caron said IFK Arboga looked like a strong club which had a good chance of being promoted to a higher level.
"I felt it was a very good place for me to continue to develop my game, to win a lot and to play with very strong players as well."
As he did in his junior days, Caron played a bit of forward in addition to defense last season, but he'll be a full-time defenseman this season.
"With the large ice surface, I really like using my skating. I like to see the game in front of me and really quarterback a game. I feel like I can slow the game down or speed it up. I also like to defend hard and be difficult to face. This is my natural position.
Content of the article
For Caron, returning to Sweden for another hockey season was an easy decision.
"Once I got a taste of Sweden – how beautiful the country is, how nice the people are and it's just a really cool culture – I wanted to go back. Hockey is really strong. They have a good system. It's very competitive," he said.
"I was really grateful to be able to do my routines. Waking up, going to the rink, skating or working out, having a nice lunch, relaxing a bit, getting back to the rink, skating with my team and getting ready for the match.
He said that in general Swedes are very laid back and that he finds the countryside to be very similar to that of Canada. Between towns and cities, there is very little except trees and lakes.
Content of the article
Caron was able to explore some of the country and is excited to do more this year. The club will provide him with a car and accommodation. This season, he'll be living with Arboga's other Canadian roster and teammate, Chase Leslie of Camrose, Alta.
"We will be well taken care of and we can work hard day in and day out," he said.
"It's been a really good life experience for me to continue to mature and grow as a person, as well as a player on the ice."
Last season, he even learned to drive a Zamboni, which tends to come in handy when given a key to the rink to save ice time.
Caron also made a concerted effort to learn the Swedish language.
"Everyone is pretty good at English, but of course they speak a lot of Swedish. It's a really fun language to try out and learn. I train.
Content of the article
He started by learning simple words, slowly building his vocabulary and phrasing. It is improving rapidly but has not quite reached the point of being able to enjoy Swedish movies and TV shows.
"There are, but I don't watch too much TV. I can listen to podcasts and stuff like that, but I just try to talk to people. I could have a tutor. I go to the library to look for books. It's hard to keep up in Canada, because I don't have anyone to talk to about it.
"It's a process. I'm just going to keep learning it a little here and there, and eventually I'll be fully trilingual (English, French, and Swedish).
Caron experiences in Europe what many Europeans experience when they come to North America to play hockey: language barriers, especially when it comes to training and instruction.
Content of the article
"I've played for two clubs so far in Sweden. The first club was mostly English, because we had more players imported from Canada, Finland and Italy, and our coach was English. But as soon as a player asked a question in Swedish, it became Swedish very quickly, but I understood a lot, and you can always ask questions. Sometimes I was taken aside and told in English.
In addition to his own hockey career, Caron also operates a personal training and mentoring business called Deliberate Athletics. He just completed his fourth summer working in person with local athletes. He also uses his online platforms to help customers around the world while he is in Sweden or elsewhere.
"It has been a real pleasure to mentor and coach young players and athletes from Timmins who have a lot of potential. It's fun trying to inspire young people and make them believe that they can achieve their goals if they do the right things and adopt the right habits. It's very powerful.
Content of the article
His clientele is mainly made up of young players between the ages of 10 and 25, but he also trained a 54-year-old player this year.
"While I teach, I also learn."
Caron also spent two weeks this summer on the ice coaching young players from the Cree Nation of Mistissini in northern Quebec.
He also skated a few times in Rouyn-Noranda before the ice was again installed at McIntyre Arena. His preparation for his upcoming season included extensive off-ice training.
"In the gym; at the track; on the Rollerblades; running on sand hills – really keeping up with my conditioning. I also worked hard on my mobility. Putting in the effort, day in and day out, to keep getting faster , stronger and more elusive on the ice. It's been a very good preparation campaign for my season, and a lot of fun too. It's the most important thing for me. I need to take advantage of what I That way I'm more motivated to try harder.
Content of the article
His philosophy of sports training is quite simple.
"It's important that the things you do have a purpose and an intention in order to improve yourself, so when it's time to practice your sport, you can perform better."
Caron is a bit late joining his new club for training camp as he had to sort out some visa matters before he could return to Sweden, but he found some bright spots.
"It's given me more time to cherish my family back home, get out there and sail, hang out at the cabin for a bit, keep skating here with friends before I go on a trip."
IFK Arboga's regular season will begin on October 7. Caron expects an exciting season to develop his game, play against good competition and enjoy more of what Sweden has to offer.
"Jag älskar Sverige – meaning 'I love Sweden.' It's a good time. Lots of fun. I met a lot of really nice people and I can't wait to continue my journey, to learn more Swedish, to climb the hockey levels there and to explore this part of the world.