The Laser Energy Laboratory pictured at the White House Fusion Energy Summit: NewsCenter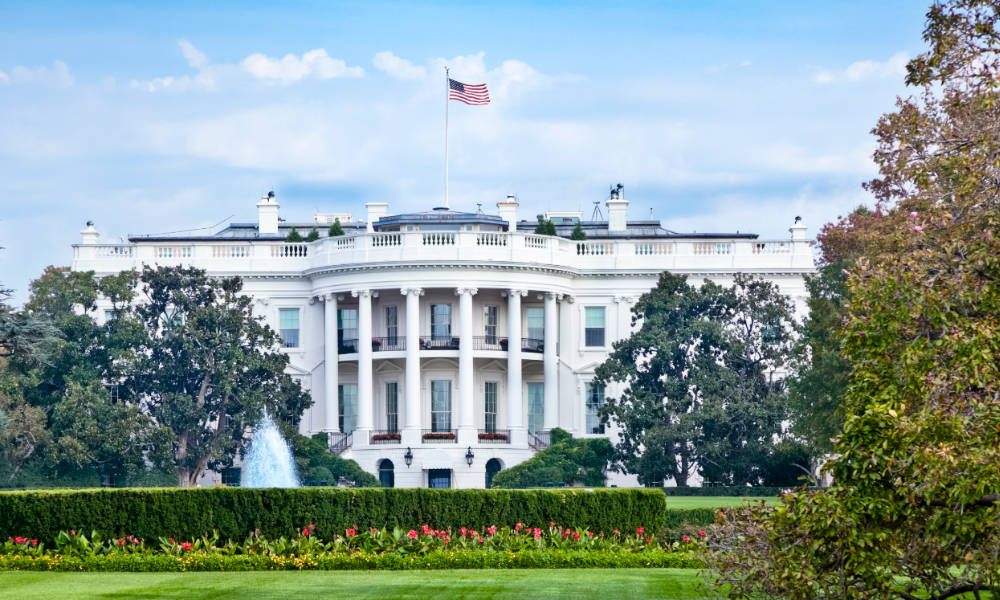 March 22, 2022



LLE Director Michael Campbell joined national speakers to discuss the development and commercialization of fusion as a safe, clean and reliable source of energy.
A group of science and industry leaders from across the United States recently gathered at the White House for a summit aimed at accelerating the development and commercialization of fusion power.
Read the Laser Energetics Lab
special version
to learn more about the summit and the Department of Energy's fusion energy initiative.
Michael Campbell, principal of the University of Rochester Laser energetics laboratorywas among those attending the rally, held March 17 and motivated by the Biden-Harris administration's goal of achieving net-zero carbon emissions by 2050. The summit, "Developing a 10-Year Vision for Commercial Fusion Power," was organized by the White House Office of Science and Technology Policy (OSTP) and the U.S. Department of Energy (DOE).
Although fusion has yet to be realized, it has long been considered an ideal energy source due to its potential to be a safe, clean and reliable energy technology. Fusion energy uses the same reaction that powers stars, including the sun, and is produced by combining atoms to create heavier ones. However, to make it a viable energy source, there is still a need to reduce costs and accelerate the timeline for fusion development.
"The need for fusion power is clear, and the progress made over the past few decades is impressive," says Campbell. "It will be important as we move forward to highlight the successes and recognize the challenges that must be overcome to realize the promise of fusion energy."
"There was extremely strong support and enthusiasm for fusion energy," said LLE Director Michael Campbell. "We expect there to be growing interest and funding from private and public sources in the near future."
Summit participants included science leaders, industry leaders, government officials and other stakeholders. The DOE plans to launch an agency-wide initiative, spearheaded by a new DOE senior merger coordinator, Scott Hsu, who is currently program director at the Agency for Advanced Research Projects-Energy (ARPA-E)—to develop strategies to accelerate the viability of commercial fusion energy in partnership with the private sector.
"There was extremely strong support and enthusiasm for fusion power," Campbell said. "We expect there to be growing interest and funding from private and public sources in the near future. The University of Rochester and LLE are recognized as a center of excellence in inertial fusion science and technology which has resulted from the support we have received from the National Nuclear Safety Agency (NNSA) and Office of Science fusion energy from the DOE. Therefore, LLE is well placed to contribute to the development of fusion energy.
Since the early 1970s, scientists have researched the possibility of using high-powered lasers to compress material long enough, at temperatures high enough, to trigger ignition, which means that the resulting production of energy of fusion is several times greater than the energy required for ignition. The entire compression and ignition process, which occurs in nanoseconds, is called inertial confinement fusion (ICF).
The LLE is a leader in direct-drive laser ICF research, collaborating with faculties of engineering, physics, and other sciences at the university's River campus, as well as fusion labs of the whole world.
"It won't be easy, but the quality of science, engineering, operations and administration at UR/LLE, the partnership development strategy and the courage to be bold will give LLE the opportunity to be a leader and make major contributions to eventually making fusion power on the grid a reality," says Campbell.
---
Read more
Fusion progress validates a 40-year quest
Lawrence Livermore researchers unleashed a blast of over 10 quadrillion watts of fusion power. It's cause for celebration at Rochester's Laboratory for Laser Energetics, a close collaborator on laser implosion techniques.
Category: Highlighted