Real Home Tour: This Island Home Is What Beach Dreams Are Made Of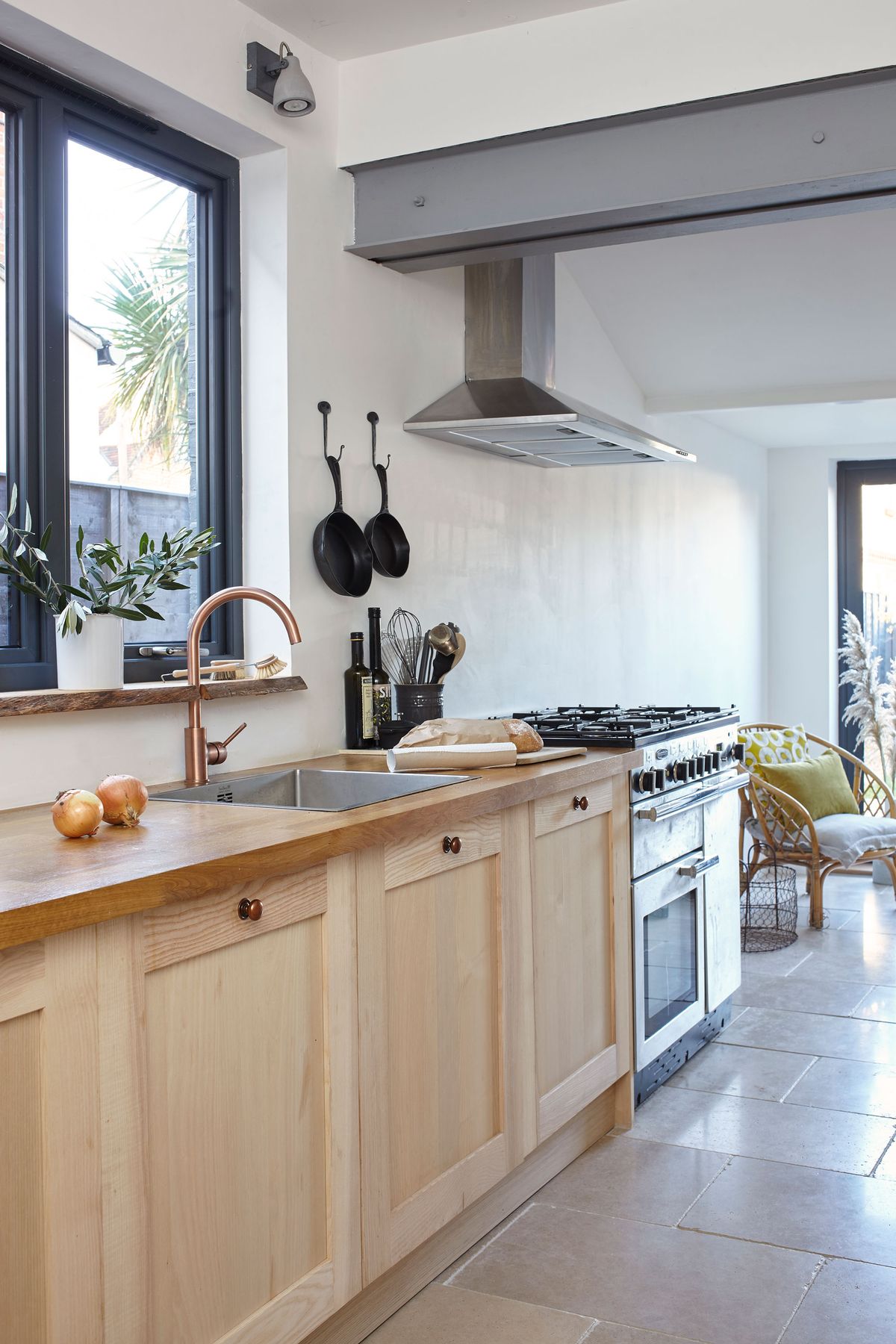 Although Olivia Scullion and Mark Waterer both spent most of their teenage years living on the Isle of Wight, their paths were not to cross until they met in London in their twenties. "I was living in Sweden at the time and visiting friends in the city when I met Mark in Covent Garden," recalls Olivia. "It's not often that you meet someone who has lived on the Isle of Wight, and when you do, you feel a certain affinity."
When the opportunity presented itself for them to settle there, the couple jumped at the chance and transformed a Victorian terrace into an idyllic seaside house, decorated in a style influenced by the Scandinavian origins of 'Olivia.
If you're inspired to tackle restoring your own home, we've got plenty of ideas and helpful tips on what to do and where to start in our home improvement article.
Profile
The owners Olivia Scullion (@trulynordic), clinical research associate, her partner, Mark Waterer, audiovisual design engineer, and their Japanese Shiba Inu, Tamu
The property A two bedroom Victorian terrace in Yarmouth, Isle of Wight
Project cost £ 40,000
After their first meeting, Olivia moved to join Mark in London, where they rented an apartment in West Hampstead. Despite being born in Sweden and Mark in Kenya, both were keen to return to the island where they grew up, so when Olivia got the chance to work from home, the couple took the opportunity to relocate. "As Mark works away most of the week and my parents still live on the island, it made sense to create a home here where I could be closer to my family, especially considering the prices real estate suited our tight budget more than in London, "she adds. .
They were eager to find a renovation project they could put their mark on, only to spot it in the quaint harbor town of Yarmouth on the west coast. "While it's not as big or bustling as Cowes, there's a lovely vibe here with art galleries, cool cafes, and rows of pretty period homes," says Olivia. "We fell head over heels in love with this Victorian terrace as soon as we saw it, even though it was in a sad and run down state. She admits that as novice renovators, they were a little naive about the scale of a DIY project they had undertaken. "We planned to do most of the work ourselves. Luckily the house had good bones and we didn't need to make any major structural changes. It was simply a matter of eviscerating it and giving it back its character.
Living with Olivia's parents nearby for most of the year, the couple spent all of their free time renovating. The first job was to create a larger kitchen by removing a few non-loadbearing walls that housed a small utility and a downstairs toilet. They then added dark contemporary French doors and a matching bay window above the sink. As this room can be prone to darkness, we wanted to keep it warm and inviting with earthy tones and textures, so we opted for rich wood cabinetry and rolled sandstone floor tiles for their cozy Nordic vibes. ", explains Olivia.
The duo then installed the furniture and wooden worktops themselves, and hired professionals to install the plumbing and electricity. "Learning DIY through YouTube tutorials not only saved us a fortune on labor costs, but it also allowed us to customize the look to get exactly what we wanted."
The couple's new skills were put to the test in the living space when they had to hand scrape a layer of tar covering the old floorboards. "It was horrible and took forever, but revealing them was so worth it. We then enhanced their natural beauty with a clear oil, "explains Olivia.
The couple stuck to the bright white on the walls, with the vintage baseboards and door frames painted a calming gray. In the seating area, Olivia paired a linen sofa with vintage rattan tables and chairs for a calm feel, while a mix of heirlooms and vintage finds in the dining room creates a classic feel. . She also continued those subtle pops of pattern and color upstairs, where the master bedroom's vibrant blue wall showcases the period fireplace.
The result was a neutral house that could be easily changed. "We've added character through the pattern, color and textures, and these can all be refreshed or seasonally changed. A home has to tell a story about its owners, and we feel like we've succeeded in bringing together our unique legacies in this place we both love.
Subscribe to Real Homes Magazine
Want even more great ideas for your home from the team of experts at Real houses magazine? To subscribe to Real houses magazine and get great content delivered right to your door. From inspiring completed projects to the latest decorating trends and expert advice, you'll find everything you need to create your dream home in every issue.See the offer
More reading