Ireland's tallest mural unveiled in Co Louth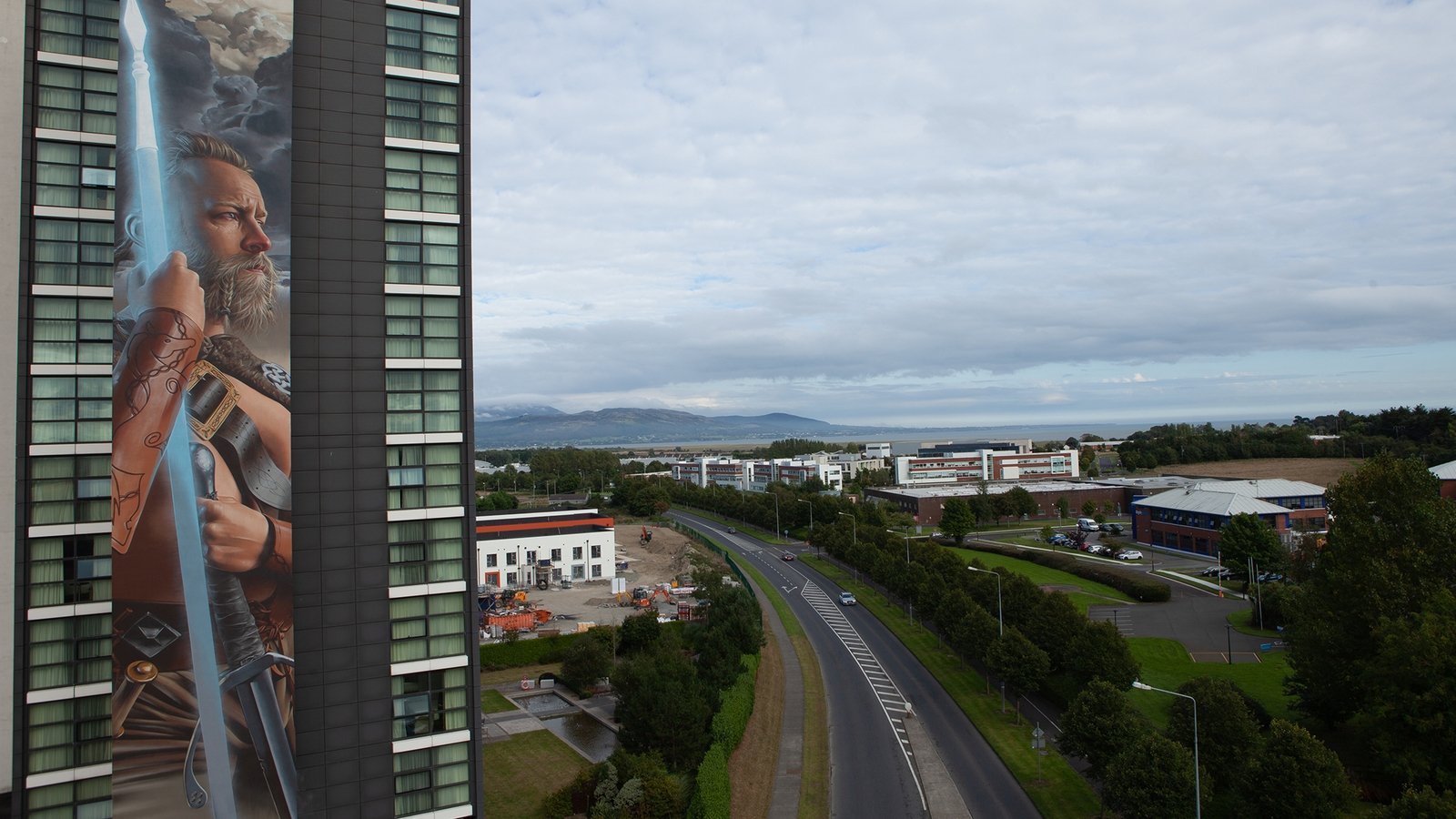 Ireland's tallest mural was completed in Dundalk.
The mural, which depicts the warrior god Lú, namesake of Co Louth, is 41 meters high.
It was painted on the side of the Crowne Plaza Hotel, which is the tenth tallest building in Ireland.
It took ten days for internationally renowned artist Sam Bates, also known as "Smug One", to complete the artwork.
In the painting, Lú holds an electric blue sphere in one hand and a sword in the other.
There is a greyhound at his feet.
Mr. Bates used 247 cans of spray paint and 180 gallons of emulsion paint to finish the mural.
"When they told me about Lú and I researched him and looked at who he was and his relationship with the county, I was really excited because I love the mythical concepts related to the real story. It was all my way, "he said. .
For the Australian artist, painting at heights is something he's used to, but he admits that the wind can sometimes take its toll.
"It can be nerve-wracking at times. It was very windy and even one floor above the ground the wind is considerable so it is a bit hairy at times," Bates said.
But he said it came with the job and being so tall meant he was entitled to beautiful sunsets.
"The clouds were so dramatic and at sunset when I turn away from the wall I look directly at the sun and it's so dramatic. It's amazing," he said.
The mural is part of the SEEK Urban Arts Festival, which is in its third year. Dozens of other murals have been painted in the city in recent years.
"It's a Creative Ireland funded project and this year we've decided to grow up or come home," said Martin McElligott, Dundalk Town Center Business Manager, laughing.
"We knew this was the opportunity of a lifetime. It's the highlight of the horizon. The project has generated a lot of feedback, not only from the people of Dundalk, but from the diaspora of the world. whole, "he explained.
Locals and visitors alike have seen this painting come to life over the past ten days.
"People are delighted to see him. It transformed the building, "said Cormac McCann, director of sales and marketing at the Crowne Plaza hotel.
"It's fantastic to see Lú on the side of the building, the namesake of Co Louth, the father of Cu Chúlainn, a son of Dundalk. It's a great story for us."
For the artist, this is the next step, but he is happy to learn that this Dundalk fresco is the tallest in Ireland.
"I love to hold titles. It is also maybe my biggest fresco. I'm waiting for a measure of a fresco that I painted in Sweden a few years ago, but I think this one l 'has passed, "Bates said.