Development agency "creates 100 new jobs" by opening Leeds Prolific North base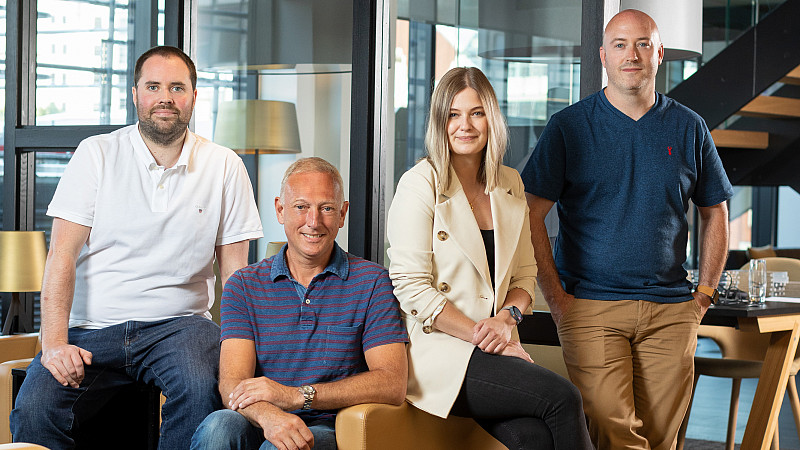 Edinburgh-based product and software engineering agency xDesign has announced the opening of its new office on Bruntwood SciTech's platform in Leeds.
It intends to accelerate its growth by creating 100 jobs in the region and continue to provide UK-based teams to its new and existing clients.
This will be xDesign's first base beyond its headquarters in Edinburgh. The appointment of Matt Ward (pictured, second from left) is also announced as head of xDesign for the north of England, leading the expansion in the region.
xDesign is a digital software and services development agency with clients such as Heineken, Tesco Bank, Rothschild, and PayPal. She is currently looking to appoint junior and senior engineers, designers and internal talent acquisition specialists.
Euan Andrews (photo, left), Managing Director of xDesign, said: "Opening a new office in Leeds is at the heart of our overall growth strategy which sees xDesign opening offices and creating jobs across the country. UK, and it is essential for us to plan for this expansion. thoughtfully focusing on how best to support local businesses and talent.
"It is important for us to find people to work with and collaborate with who have regional and local knowledge and expertise, because we know how crucial this knowledge is in building a strong community, which is our number one priority then. that we are working to make meaningful contributions to the region.
The agency says it chose Leeds as its first outpost because of the striking similarities between its technological business environment and that of Scotland. "We are delighted to welcome xDesign to our thriving tech and digital community and are proud that the company has chosen Leeds as their first base outside of Scotland," said Councilor Jonathan Pryor, Executive Member of Leeds City Council for economy, culture and education.
"The product and software engineering company is already looking to recruit into its new office and we are very happy to see over 100 exciting job opportunities open up for local people to work with some of the most exciting brands. and the UK's best-known in this space. "
Commenting on his appointment, Matt Ward added, "I am delighted to lead this expansion. As a resident and professional of the region, I know how vibrant the tech community is here, and have had the pleasure of working directly with the incredible talent of the region. Continuing to build the xDesign community in the North is something we all look forward to.