couple brings a taste of Sweden to Otego main street | Economic news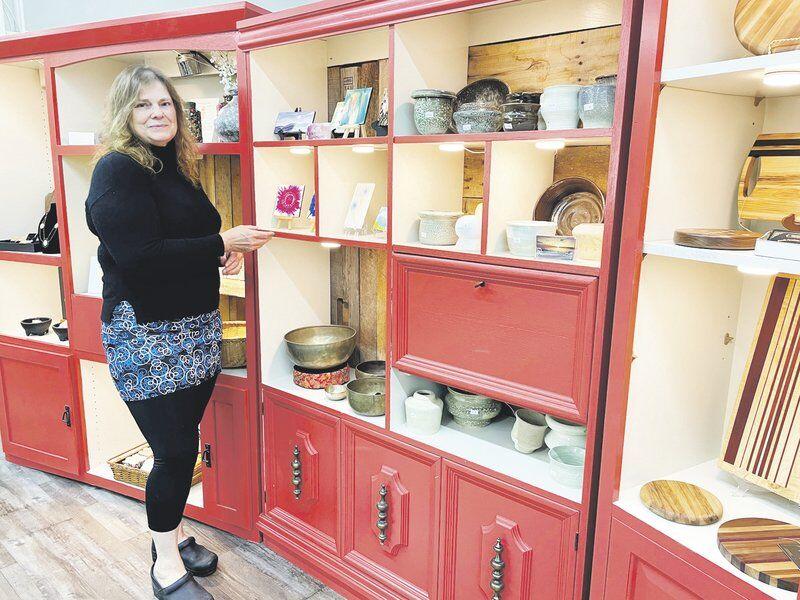 For Otego resident Pamela Grimm, Trollbok Farm is what Swedish dreams are made of.
Together with her husband, David, and their adult sons Johannes and Karl-Sebastian, Grimm launched the farm store and restaurant at 107 Main Street in Otego in July, with a grand opening slated for October 30.
"Our farm's name is Swedish, and I'm actually from Sweden," Grimm said. "'Trollbok' is a book of enchantments, and we are the Grimm family, after all, so everything is fine. The aesthetic of our brand is largely the Scandinavian forest and the trolls.
The company, said Grimm, pays homage to its past while focusing on a community-driven future.
"We bought the farm just over a year ago… to start market gardening," she said. "We have set up an orchard and a high tunnel and (will produce) fruits, vegetables and flowers… but, thinking about what we have in our store, there are two big things that motivate him: the Swedish connection – our bakery has about 20 different things, (like) cakes, muffins, cookies, etc. which all reflect those Scandinavian flavors of almond, ginger, cardamom and lingonberry, and we import a lot of stuff from Sweden – and the other is the local piece. This is expressed in different ways.
"We have this great retail location that we really want everyone at Otego who does value-added things to have access to," Grimm continued. "So we have a wall of artisans, and we are giving a small shop to local artisans. You can come here and see the local crafts, and some are just amazing – jewelry, breadboards, pot holders, aromatherapy – then we have syrup, honey, and jams from the locals. And the other part works with our local producers, bringing fresh produce all year round; you can still come here and buy a tomato.
The restaurant portion of the retail space, Grimm said, also includes pre-made sandwiches and salads, a deli-style lunchbox option, soups and coffee.
Visitors to the Franklin Farmers' Market, Grimm said, will be familiar with the Trollbok Farm fare.
"We did this to find out what people are reacting to, what is attractive and interesting, and people have responded incredibly positively and they have favorites," she said. "Our top three are the fairy dust cakes, which are almond-based cakes sprinkled with cardamom, and we can't keep them on the shelves; the second big favorite is our Swedish visitor cake, a thinner almond and lemon cake; and our range of granola – flavored with cardamom, wild berries, mulberry and lingonberry, then all three (berry aromas) as berry.
Although born in Sweden, said Grimm, she has long had an interest in the north of the state.
"Our intention is really to support our local community," she said. "It's such a big part of what we do as a family, and everything we do here, we want to support the village. It's about jobs and bringing money from outside of Otego to Otego.
"We ranched and farmed subsistence for 10 years in Kansas, but what brought us to upstate New York… is that I grew up in the Valley of the Hudson, so we know upstate New York well, "Grimm continued. "My husband was a Unitarian Universalist pastor in Ithaca and after his retirement we moved to Binghamton and opened the Park House Bed and Breakfast. We've been using it for six years, so this is our next adventure.
Grimm said the family's plans to boost Otego's economy include wholesale and production efforts.
"We wholesale our soups and talk to local grocery stores and health food stores, and we do soup subscription boxes," she said. "We will market them in Albany, Syracuse and Binghamton, so that will be a way to take the products from here… and take them elsewhere.
"And we're just starting to grow microgreens and will have a full-scale microgreen operation, selling to restaurants, in the store and in our own salads and subscription boxes," Grimm continued. "This is the next phase of deployment, then we're going to build a cheese factory and make cheese (a Swedish farmer) in Otego and sell it all over the country. We are working with Cornell… and will start producing through their incubator program.
The response near home, said Grimm, has been encouraging.
"It's awesome," she said. "(The Mayor) Ernie Kroll and Joe (Hurlburt) **, the town supervisor and others who are the movers and village actors have been incredibly supportive and helpful. We also got a grant from Otsego County through Otsego Now and that's great. So, we really have some very excited people here, because not only was (the building) empty for a long time, but now they can get fresh food, baked goods, and farm eggs all year round.
"We're a different thing and we're going to fill a niche," Grimm continued. "We certainly have a lot of people from the area and we really enjoy that and get to know them, and certainly people who travel on (Interstate) 88, because we're here. We hope that… with the Swedish bakery and something a little different for lunch, our drive-in clientele will come from a 30 mile area.
For more information or to subscribe to the weekly Trollbok newsletter, visit trollbokfarm.com. Also find "Trollbok Farm" on Facebook, follow @trollbokfarm on Instagram or call 607-376-7603.
Trollbok Farm is open 8 a.m. to 5 p.m., Tuesday to Saturday. The October 30 opening event *, featuring vendors, activities for kids, and sample drinks and good baked goods, will start at 10 a.m.
* amended at 2:38 p.m. on October 9 to correct the inauguration date.
** changed at 4:07 p.m. on October 9 to correct the last name of the town overseer.