Blair Receives Caroline J. Cross Leadership Franklin Award | Local News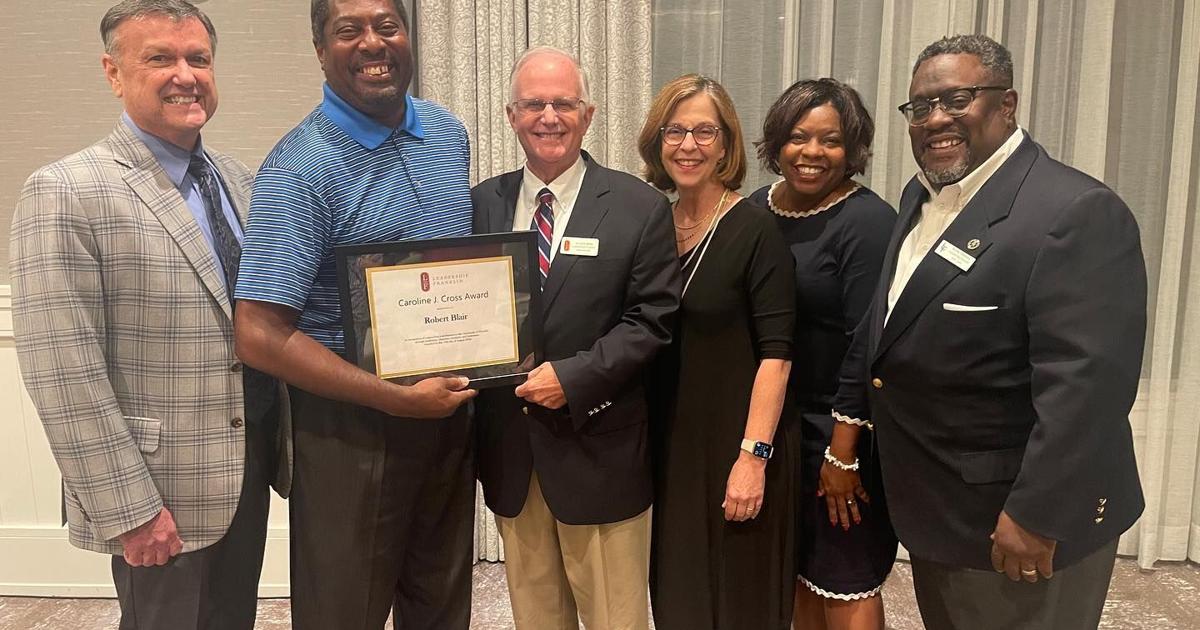 Franklin Special School District School Board President Robert Blair was presented with the Caroline J. Cross Award by the Leadership Franklin Board of Trustees Monday evening.
Blair has served on the FSSD Board of Trustees since 2003 and was elected President in 2020. He has been recognized by the Tennessee School Boards Association among the Scholars Circle and the All-Tennessee School Board.
He also has experience working in community service, including with Leadership Franklin and Youth Leadership Franklin, My Friend's House, WAVES, Boys and Girls Clubs of Middle Tennessee, and Franklin Tomorrow. He is a past recipient of the Monroe and Mary Booker Award for Community Service and the Boys and Girls Clubs Ed Moody Achievement Award for Advocacy for Children.
Blair is the Director of Education at Cummins Street Church of Christ. He is the owner of B. Media Communications, a strategic planning and board development agency that provides communications strategies for nonprofit organizations.
"Robert Blair is a leader with a servant's heart," said Julian Bibb, Chairman of Leadership Franklin's Board of Directors. "He has a long history of community involvement working with the Franklin Special School District and many other nonprofits in our community. Over the years, Robert has received numerous honors and awards. Leadership Franklin is thrilled to recognize Robert's lifelong commitment to bettering our community by presenting him with the annual Caroline J. Cross Leadership Award.
The Caroline J. Cross Award was established as a Leadership Franklin Class Project in 2007 to honor Caroline J. Cross, founding executive director of Leadership Franklin. It identifies a leader in the community who exemplifies the values ​​and lessons of Leadership Franklin.
Nomination criteria for the Caroline J. Cross Award include leadership that motivates and inspires others as well as traits of creativity, character, dedication, and community service.
Past recipients of the award, including Jimmy Gentry, Rogers Anderson, Julian Bibb III, Scott Roley, Janet Keck, Alma McLemore, Rick Warwick, Emily Magid, Paige Pitts, Dr Joseph Willoughby, Mary Mills, Judy Hayes, Brandy Blanton, Tom Lawrence and Debbie Henry.
Leadership Franklin is a nonprofit organization founded in 1996 to develop leadership and community engagement to advance a vision for Franklin and Williamson County. For more information about the organization, visit www.leadershipfranklin.com.