ASX set to rise, Wall Street rallies amid concerns over US economy 'hard landing'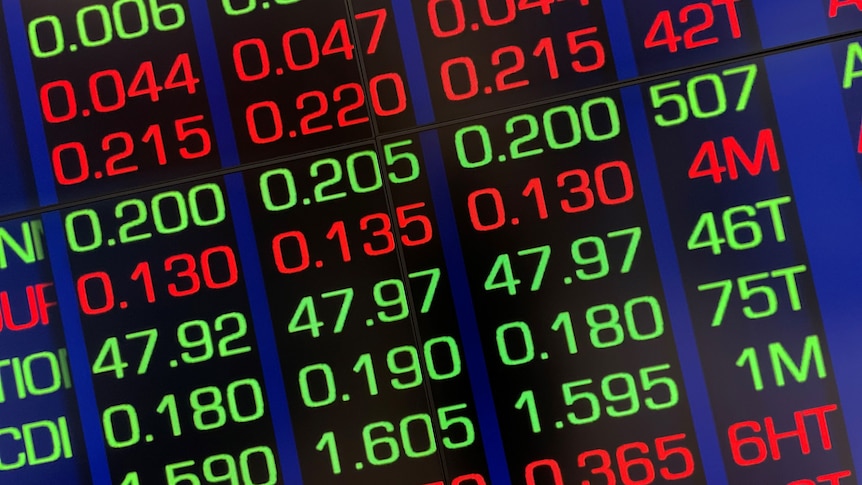 Australian stocks are expected to rise in morning trade after Wall Street recovered from its two-day losing streak as investors wait to see how aggressively the US Federal Reserve will raise interest rates this week.
Key points:
The ASX 200 has fallen 3.5% in the past five days
The US Federal Reserve is expected to hike rates by at least 0.75%
Gold fell to a 29-month low
ASX futures rose 0.8% to 6,776 points, as of 7:25 a.m. AEST.
The Australian dollar remained stable at 67.25 US cents.
The Reserve Bank will release minutes from its September meeting at 11:30 a.m. AEST – and investors will be looking for clues as to whether the next interest rate hike will be 0.25 or 0.5 percentage points.
In a parliamentary hearing on Friday, RBA Governor Philip Lowe said the central bank may consider slowing the pace of its rate hikes.
US markets rallied as hedge funds positioned themselves on the possibility that the Fed's tone was less onerous than markets expected when policymakers hiked rates on Wednesday.
"There is positioning going on just in case something comes out of the Fed that turns out to be less hawkish," said Michael James, managing director of equity trading at Wedbush Securities in Los Angeles.
"I don't think anyone is predicting this is going to happen, but it is positioning itself for the possibility of it happening.
"The majority of people are in the negative camp right now."
"We may suffer a hard landing"
Major Wall Street indices were volatile for most of the day, but managed to rebound in the final hour of trading.
The S&P 500 gained 0.7% to end at 3,900 points, the Nasdaq Composite rose 0.8% to 11,535, while the Dow Jones index rose 0.7% to 31,023.
Markets are pricing in a 0.75 percentage point rate hike, with futures showing an 18% chance of a 1 percentage point hike on Wednesday (local time), according to CME's FedWatch tool.
Markets are also pointing to a real chance that rates will hit 4.5% by March as the Fed is forced to tip the economy into a recession to get inflation under control.
"Our biggest concern now, and the reason you're seeing such turmoil in the market today, is that there's more earnings uncertainty now, in addition to concern about [US] rate hikes," said King Lip, chief investment strategist at Baker Avenue Asset Management in San Francisco.
"We could be headed for a hard landing rather than a soft landing, and the hard landing possibly being excessive Fed tightening in a situation where we already see the economy slowing."
Rising rates around the world
At least 10 central banks are meeting this week – from Switzerland to South Africa – and most of them are expected to raise interest rates.
Economists are split on whether the Bank of England will move 0.5 or 0.75 percentage points.
But China's central bank on Monday lowered its repurchase rate by 0.1 percentage point to support its struggling economy.
The other exception is the Bank of Japan, which is also due to meet this week, and which has shown no sign of abandoning its ultra-loose yield curve policy despite a drastic drop in the yen.
The central banks of Norway, Sweden, Indonesia, Taiwan, the Philippines, Turkey and Brazil are also meeting this week to discuss interest rate policy.
Oil prices edged higher in volatile trading as fears of tight supply outweigh fears of slowing global demand due to a stronger U.S. dollar and possible big rate hikes by the Fed.
Brent crude rose 0.4% to US$91.74 a barrel.
Spot gold was flat at US$1,675.48 an ounce, near its lowest level in 29 months.
Bitcoin, which also moves with investors' risk appetite, hit a three-month low at $18,271 and last stabilized at $19,537.
ABC/Reuters