A DFW stay: immerse yourself in the arts at this charming hotel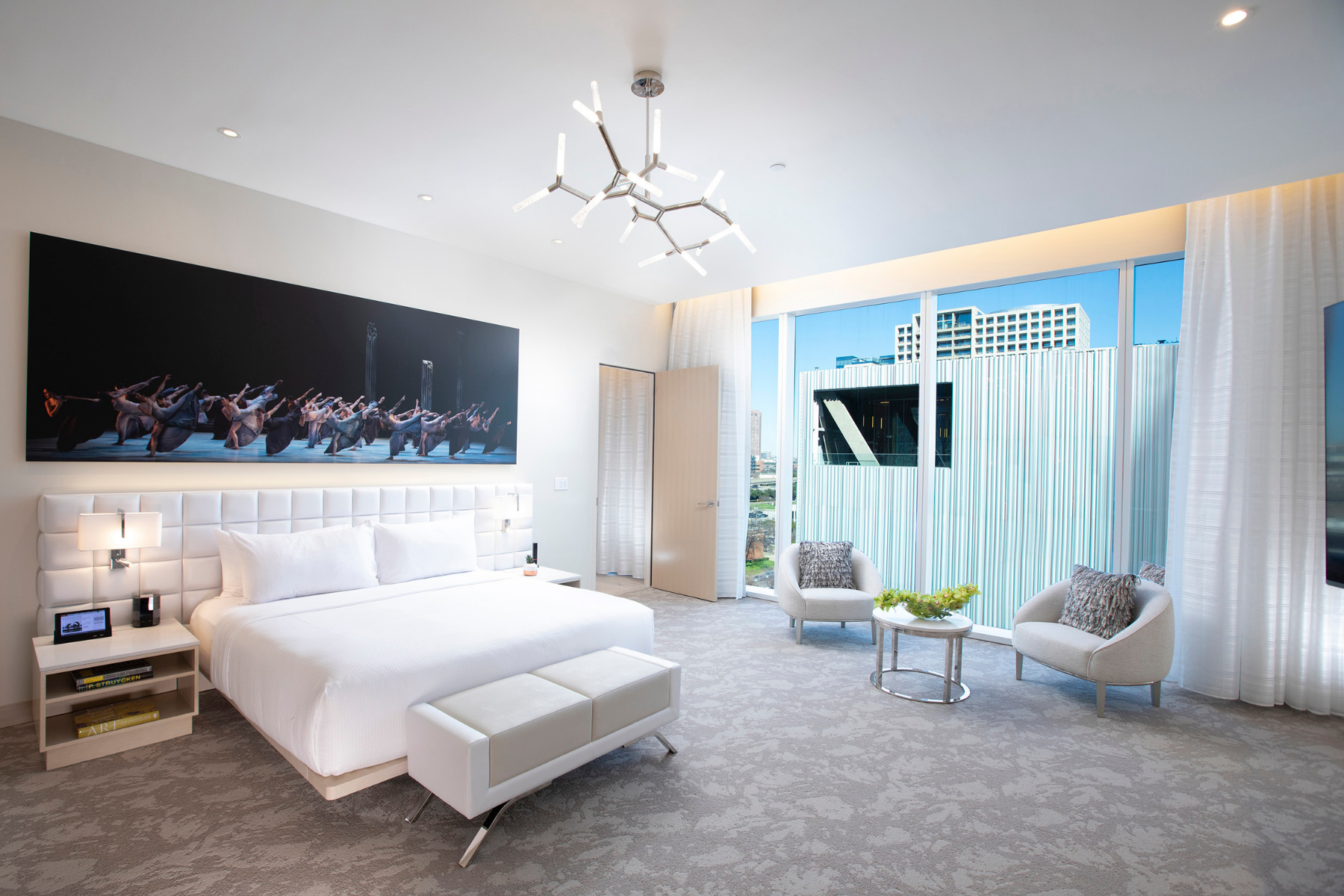 Developer Craig Hall is known for seeing opportunities before others notice them. He pioneered the Frisco office market, turning farmland into a thriving multipurpose park. And in 1995, he acquired land along Ross Avenue in what is now Dallas' vibrant arts district.
Hall has patiently waited 20 years for the downtown market to catch up; its 18-story KMPG Plaza at Hall Arts office tower opened in 2015 with an impressive list of tenants. After considering various uses on adjacent land, he decided to do something he had never done before: build a tower that would house both condos and a boutique hotel.
The 28-story building, which debuted in December 2019, has 48 luxury residences, including a grand house occupied by Hall and his wife, winemaker and former Ambassador Kathryn Hall. The adjoining hotel, the first in the Dallas Arts District, has 183 rooms, including 19 suites, ranging in size from 350 to 1,700 square feet. The property is surrounded by notable locations including the Meyerson Symphony Center designed by IM Pei, the Winspear opera house by Foster and Partners and the Dee and Charles Wyly theater, designed by REX | OMA, Joshua Prince-Ramus and Rem Koolhaas.
I've known Hall for decades; my twin sister started his real estate career working for him in Ann Arbor when his company was still based in Michigan. So, on a recent stay at his Hall Arts Hotel, I expected it to be sophisticated, modern, bold and luxurious, without being pretentious. I also knew I would find lots of thoughtful, whimsical artwork and touches – the hotel delivered in every way.
Spending time in the expansive Grand Finale suite was a real escape, a getaway that made me forget I was less than a mile from my downtown apartment. Designed by Dallas-based HKS, I bathed in the luxurious touches, with interiors from New York's Bentel & Bentel – plush duvets, Frette linens, Natura Bissè bath products (my favorite), and massive, colorful photographs on the art theme on the walls. (Longtime room curator Patricia Meadows compiled the collection.) I also loved the bathroom wallpaper, a photorealistic strip of crumpled light blue paper.
The professionals at Bentel & Bentel seemed to anticipate every need, with extras such as a well-lit makeup corner, a dining table that seats six, a perfectly appointed workspace and a collection of interesting books. Despite the suite's large size, it never felt overwhelming – just exceptionally comfortable.
Customers don't have to go far for a good meal. There are a myriad of options downtown and Uptown, including Tei-An, an authentic and popular Japanese Soba house a few blocks away on Routh Street. But with Ellie's Restaurant & Lounge onsite, there's no reason to leave. The restaurant offers breakfast, lunch, dinner and brunch on Saturdays and poolside food service on weekends.
Named after Hall's late mother, it draws inspiration from her passion for art and authenticity, offering dishes that are both elegant and informal. With a kitchen led by Executive Chef Dan Landsberg, the restaurant uses local and sustainable ingredients.
I highly recommend starting dinner with a glass of Cabernet Sauvignon from Halls' Napa Valley winery or the Walt (Kathryn's maiden name) pinot noir. A must-have appetizer is the Duck Confit Tostada, with tomatillo salsa, chili-lime pepitas, huarache chili, Asadero cheese and goat cheese cream. It was exceptional. Other starter options include the third rib ceviche, which includes the gulf's catch of the day, and fried green tomatoes with grilled scallion aioli.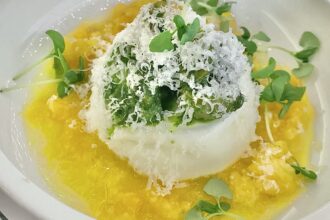 Paula's Caprese combines mozzarella from Dallas Mozzarella Co. with traditional tomato, sandia, golden balsamic gastric and micro-basil.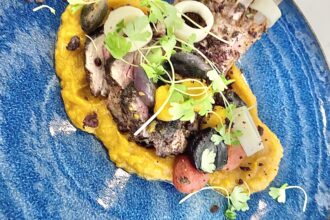 The harissa marinated lamb sits on a creamy mashed sweet potato, adorned with hearts of palm, roasted red pearl onions, charred heirloom tomato sumac and Kalamata olive crumble.
Salads range from a Caprese plate that showcases cheese from Paula Lambert's famous Dallas Mozzarella Co., a bowl of cereal with farro, quinoa, amaranth, sunflower seeds, Texas peas , avocado and more, with a chimichurri vinaigrette. I made it simple with a deliciously fresh Cœurs de Romaine Caesar, with garlic-smoked paprika croutons.
For the main course, I opted for the Hook & Reel starter of the day, a skilfully prepared sea bass, while my friend chose the Harissa Marinated Lamb with mashed sweet potato. Both were excellent. We ended the meal by sharing a delicious Key Lime Mousse Parfait with blueberry jam and toasted graham cracker crumble. However, Smores Bread Pudding, Earl Gray Tea Pana Cotta, and Joy Macaron Ice Cream Sandwich have also been tried.
The dining room and the living room are bright and light. It also serves as a mini art gallery, with works of art commissioned by Spencer Finch, Alicia Eggert, Kristin Baker, Cerith Wyn Evans, Carrie Mae Weems and others. Art is a big part of every Hall development; after incorporating a solid art collection into its Frisco Park, other developers and landowners in North Texas were forced to follow suit. Hall Arts offerings are diverse, stimulating and joyful, with works from established and emerging talent.
Highlights include 'Asteroid' by Spencer Finch, a light installation suspended above Ellie's, a lobby room by Scottish painter Alison Watt and an untitled vibrant floral painting by Clare Woods. The piece I liked the most, however, was a super cool red neon piece by Alicia Eggert with a message that spins between "All that is possible is real" and "All that is real is possible".
Be sure to walk outside and look at the art sculptures found between the hotel and the office building, including the "Paths," human-sized androgynous figures who climb and sit on the floor. top of a building, by Icelandic sculptor Steinunn Thorarinsdottir. It is breathtaking.
After an incredibly restful sleep, my friend and I took a short walk to Yolk at One Arts Plaza for breakfast the next morning. (Arrive before 9 a.m. to avoid the morning weekend crunch.) There's a lot of enticing things on the menu, but I always order the same thing: berry French toast with a side of extra crispy bacon. Loaded with strawberries, blueberries, blackberries, Greek yogurt, granola, and honey, the French toast is amazing and you'll leave with plenty of leftovers for an afternoon snack.
Later in the morning, it was time to pamper yourself, with an exceptional in-room massage by Hiatus Spa + Retreat, in partnership with Hall to provide services to guests who book a luxury room or suite. I kept it traditional, with a Swedish massage and personalized aromatherapy; other options include "Le Nocturne" (Swedish "and deep tissue massage with reflexology, strategic acupressure points and a sedating blend of lavender, frankincense and clary sage) and" The Virtuoso "(a tailor-made treatment which can incorporate deep tissue, hot stone therapy, whole body exfoliation, stretching, reflexology and targeted aromatherapy).
After battling the worst (hopefully) COVID, the Hall Arts Hotel and its Ellie's restaurant are drawing a steady stream of customers. Demand will certainly continue to accelerate as the Dallas Arts District's calendar of events fills up. Current offerings include an exhibition on Van Gogh and the Olive Groves at the Dallas Museum of Art and Beethoven'Beethoven's at the Dallas Symphony Orchestra. (A DSO performance with Chris Botti from October 8-10 is sold out.) Click here for the full schedule of Arts District events.
One event that I am particularly looking forward to is the Christmas C-Suite at the Dallas Symphony, for which I am delighted to be guest conductor. EarthX's Trammell S. Crow, Cafe Momentum's Chad Houser, TD Jakes of the TD Jakes Foundation and civic leader Lynn McBee also take part in this fun third annual event. It all takes place Wednesday, December 8 and includes a post-concert performance by Emerald City Band. The program benefits DSO's South Dallas Residence, Young Musicians (which provides free instruments and instruction to South Dallas students in grades 1 through 5), and Young Strings programs.